They're here!
Take a look at the splendid new Belinda Carbuncle T-shirts. GM Free and fully inoculated against swine fever, these T-shirts are not only made from the highest quality cotton Tibet has to offer, they actually make you more attractive to the opposite sex. At just £10, can you afford not to have one?
Click here for order form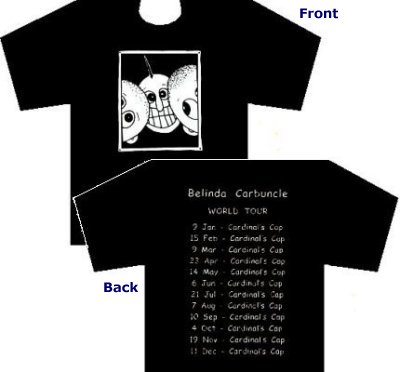 | | |
| --- | --- |
| Sizes | Who will they fit? |
| S | Slinky fit for you foxy chicks and cross-dressing weirdoes |
| L | To fit those of a normal build |
| XL | For the larger folk who like their pies |
| | |
Availability
S
L
XL
Black
Available
Dark Blue
Sold Out
Dark Green
Oops, sorry, they've all gone now - we'll get some new ones one day...
Click here for order form